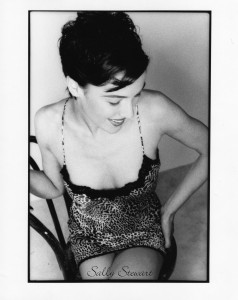 It's pretty obvious, as soon as she hits the stage that Sally Stewart is in her element.  This talented vocalist and musician can cover all different styles of material with her 3-octave range.  She continuously delights her audiences with her tributes to Chaka Khan, Celine Dion, Aretha Franklin, Ann Wilson just to name a few. 
She has performed all over the world delighting corporate audiences with her amazing vocals.  Besides having an album out on CBS Records she has also starred in the movie "Dance to Win." Sally is also an experienced piano /keyboard player.  Her many accolades include being the recipient of a scholarship at USC (first soprano).
From R&B to Opera to Rock the Sally Stewart Band can cover all the bases!
Who's playing with Sally?
Drummer: Tony De Augustine has performed with everyone from Dennis DeYoung (STYXX) and Kevin Spacey (when he was doing the Bobby Darrin show's) to Clint Holmes.  He has been involved with many production shows including The Academy Awards, Spamalot, and The Producers.  His bio truly has too many artists, tours, and shows to mention- he is a total pro and a joy to work with.
Bass Guitar she has the very talented Jeff Zinn.  Jeff can cover 4,5,6, & 7 fretless electric bass and also upright.  He has played just about every "A" lounge in town and has worked with local shows such as the Donnie & Marie  show and Clint Holmes. He has also worked with recording artists- Percy Sledge, The Dazz Band, and Expose to name a few.  It is a treat to play with him!
Keyboards, Sax, Guitar, and Vocals she has Ed Judd who is a favorite around town with anybody.  Besides being very fun to watch, he has experience working with several big name recording artists such as Beyonce. Stevie Wonder, and Wayne Newton.  He took his own band "One Nation" and toured in Japan and Indonesia.  Ed brings a lot to the table…
Lead Guitar, keyboards, and vocals she has Joey Lee.  Her and Joey have been partners in crime for many years.  He brings a huge amount of talent to the stage.  Besides being a consummate musician, he is an amazing vocalist and performer.  He has worked all over the world playing both covers and originals- his album is on A&M Records.  He has the most incredible Rod Stewart impression you will ever see- some might say he might sound better than Rod?!
VIDEO DEMO
Watch Sally as Pat Benatar: