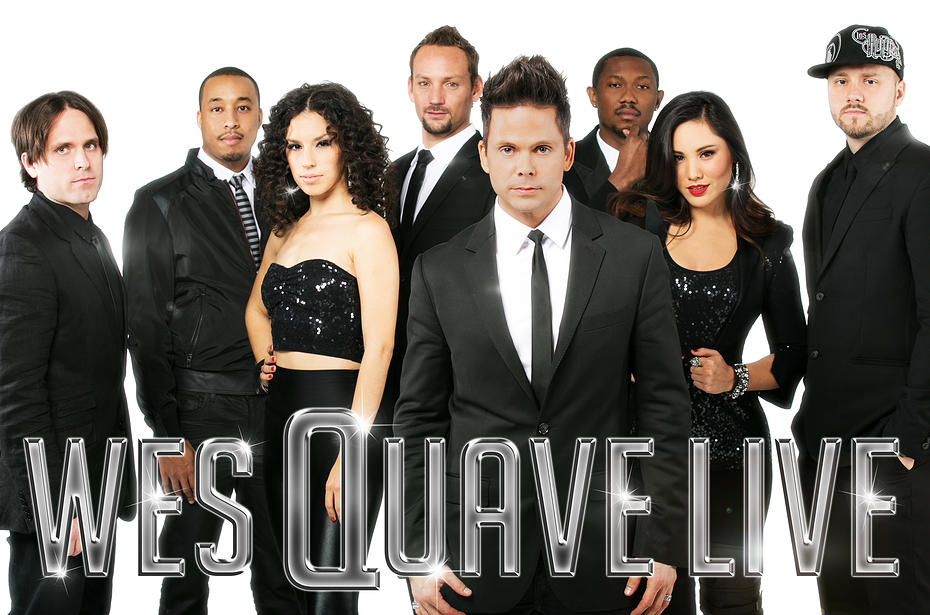 Wes Quave Live is one of the hottest corporate and private event entertainment groups in the country!
Based out of Los Angeles, CA, this talented crew has performed with some of the biggest names in the music industry, at events all over the globe; Las Vegas, China, Hawaii, Australia, Mexico, Canada and Japan, for major corporations such as Google, Canon, IBM, MGM Grand Arena, HSBC, The Walt Disney Co., LA Lakers and the NFL, along with numerous high profile charities. With major record label experience all over the stage, this high-energy show features 2 female vocalist and lead singer Wes Quave, along with DJ T- Wayne mixing up the beats.
With a visual appeal that caters to all audiences, our flashy choreography and DJ infused live music medleys will have the room on their feet and cheering until the curtain closes! Our totally fresh, cutting edge performance makes for a dance party experience that you will never forget! We ensure a seamless experience from initial booking to curtain close.
If you are looking to get the party started at your next event with an experienced, professional, high energy dance band, look no further than Wes Quave Live. Wes Quave Live scales from an individual DJ or solo performer, all the way to a 20 piece show, including a rhythm section, DJ, horns and professional dancers . We perform a wide variety of songs covering current Top 40's, 80's, Classic Rock, Motown, Pop, Hip-Hop, Jazz, Latin and Swing; we are as versatile and talented as you can get. Wes Quave Live always keeps the audience captivated, on their feet begging for more!
VIDEO DEMO
PHOTO GALLERY
WES QUAVE "VOICES"
Now it's your turn to become a music producer…take the secret sauce of "Wes Quave Live" and add an a la carte choice (or choices) of a well-known, recognized grammy level performer, backed by Wes Quave's band and you've got "Wes Quave's Voices." Picture your next event taylor-made specifically for your audience with choices you select like Mark Mcgrath of Sugar Ray, Terri Nunn of Berlin, Skip Johnson of Kool and the Gang,  Taylor Dayne, Uncle Kracker, John Rzeznik of the Goo Goo Dolls, and The Rembrandts. Click below to see a sample of artists available to create a one-of-a-kind experience for your next event: