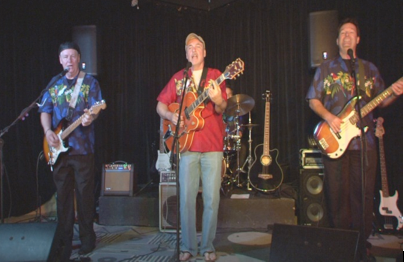 David Logeman spent 25 years bringing the music of the beach to thousands by touring with the great harmony groups of Jan&Dean and the Beach Boys. Over the years, David has met many of the musicians and singers who tour with Jimmy Buffet. Margaritaville is a state of mind – relaxing on a tropical beach, warm sand between your toes, cool drink in your hand, shrimp beginnin' to boil. The Coral Paradise band transports you to this special place with its Jimmy Buffet and Caribbean Show.
David knows how to accurately re-create these classic Jimmy Buffet and Caribbean tunes by coaching and rehearsing his group accordingly. With the Coral Paradise Band, each Jimmy Buffet and Caribbean hit like "Margaritaville," "Stir It Up," "Cheeseburger in Paradise," "Volcano," "I Shot the Sheriff," "Come Monday," and "One Love" are performed with the help of his first rate, top notch players and singers, many who have performed with David in the Beach Boys and Jan&Dean bands.
SAMPLE SONG LIST: Margaritaville, Volcano, Stir it Up, Cheeseburger in Paradise, I Can See Clearly, Day-o, Come Monday, One Love, Under the Boardwalk, Brown Eyed Girl, Son of a Sailor, Sail on Sailor, Sloop John B, Kokomo, Jamaica Farewell, Fins, Runaround Sue, Dock of the Bay, On and On, I Shot the Sheriff, No Woman No Cry, Jammin', etc..
VIDEO DEMO