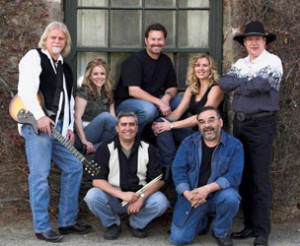 The Silverados were formed in 1992 from a worship team of a small church in Alta Loma, CA. Original members Mike Heil, Julie Wuertz, Steve Sanchez, and Doug Hanks started as a band to play at a Valentine's banquet at the church. There was a person at that banquet that wanted the band to play at a function they were having at their church the following week.
The band moved on from there and stayed together playing at the "Koffee Klatch" coffee house in Alta Loma and started playing at the Upland Street Fair Market. Later they also started playing at many of the street fairs such as Covina, Glendora, San Dimas, and Monrovia.
Currently, The Silverados play at many city events like concerts in the park and city festivals, etc. The band also plays at many corporate functions, wedding receptions, and all types of parties, such as birthday, anniversary, and backyard BBQ parties. The Silverados were recently chosen to open for Tim McGraw at Camp Pendleton for his Tour for the Troops concert in November of 2011.
The Silverados have great versatility in their makeup and in their playlists. 2 men and 2 women share lead vocals and the band prides itself in their vocal harmonies and stage presence.
The Silverados playlist is made up of current top 40 country hits from artists like Toby Keith, Carrie Underwood, and Miranda Lambert. The playlist is rounded out with a large repertoire of classic rock hits from the 60s and 70s like The Beatles, Eagles, Linda Ronstadt, and Guns N Roses.
The Silverados are a very talented, high energy, up tempo band that will appeal to a wide variety of music lovers.
VIDEO DEMO
PHOTO GALLERY